This article may contain affiliate links.
Even if you haven't had the chance to type on a real typewriter machine, you probably heard about the fun typing experience: the mechanical keys, the return lever, the clicky sound.
Now you can replicate this typing experience while working on your PC or tablet. Cool, isn't it? This recent invention is called typewriter-style keyboard.
One of such typewriter keyboards is the 7keys, TW1867 keyboard (Amazon). It has the perfect mix of retro feel and most tech features you would expect from a mechanical keyboard. Notably, the led backlit part in this keyboard is fabulous toether with its pure wooden typewriter design.
I don't know why this board is underestimated compared to other popular brands. It has a fantastic design that emulates the old typewriter machine, a built quality that beats most of its competitors, and decent features for the lower price among premium typewriter keyboards.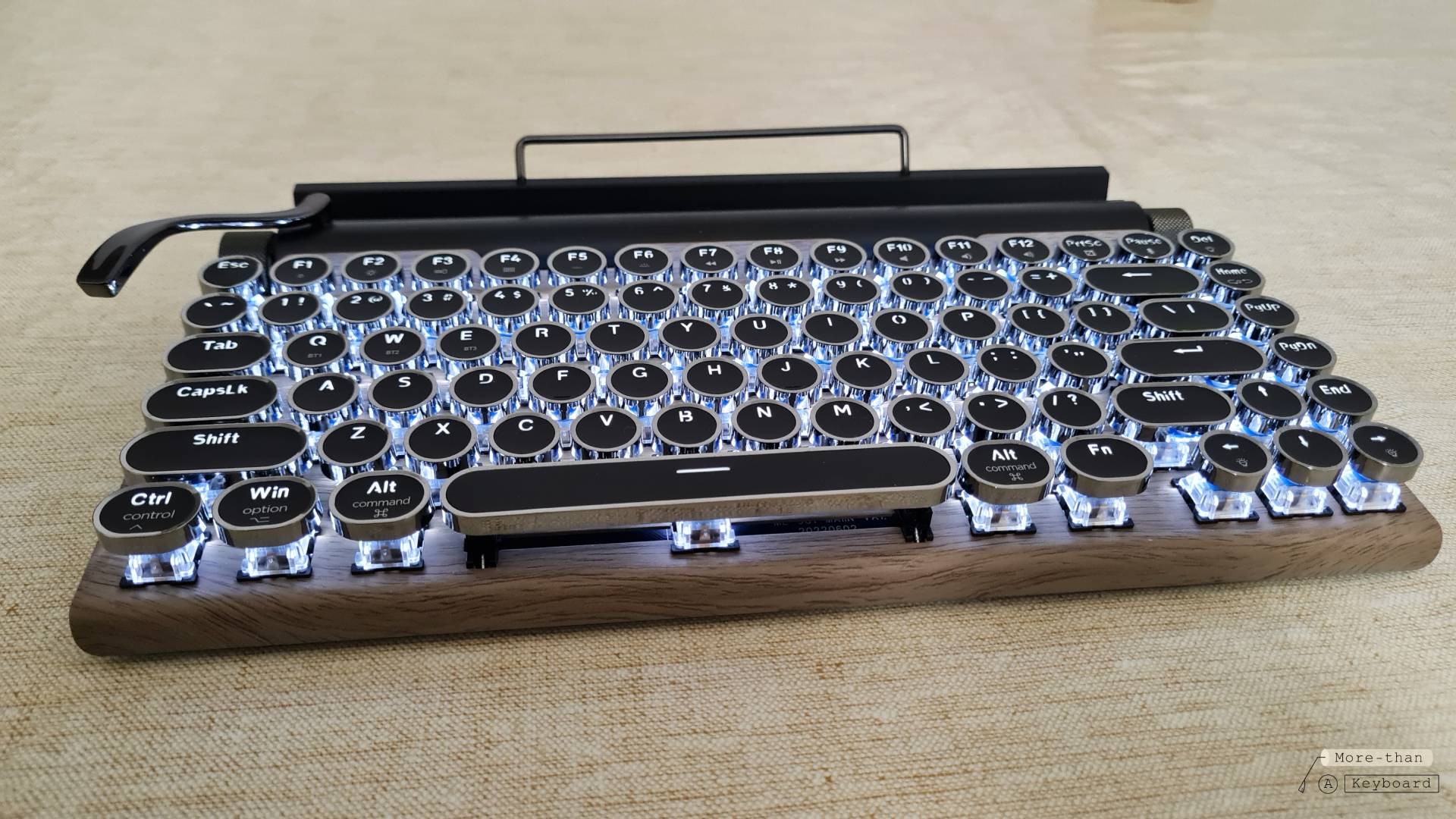 It's one of the few models that look like a typewriter while having excellent build quality and impressive backlit effects. The wooden version presented in the picture has white led lighting effects that are cool. The classic black version of this board, on the other hand, has colorful lighting effects, which are pretty basic compared to other gaming boards. In my opinion, the white lights are a better fit for the overall typewriter design.
The 7keys typewriter keyboard (TW1867) utilizes Outemu Blue Switches for excellent responsiveness, clicky sounds, and well-designed round keycaps. If you wish, you can get this board with quiet red or brown switches on the company's site.
The board has a wired-wireless toggle with nice indicator light for each connection mode. You can connect the keyboard to the PC via USB cable or use the Bluetooth mode to connect your digital devices. You get with this board a decent 2000mA recharged the battery for about more than 10 hours after being charged full, which is great for extended typing and gaming use.

This keyboard holds perfectly my iplay40 pro tablet, as you can see in the picture below. However, this bracket seems not as stable as that of the Qwerkywriter. Here, you must place the board on a hard surface to safely use your device, and you might find some issues holding a bigger, heavy tablet than mine.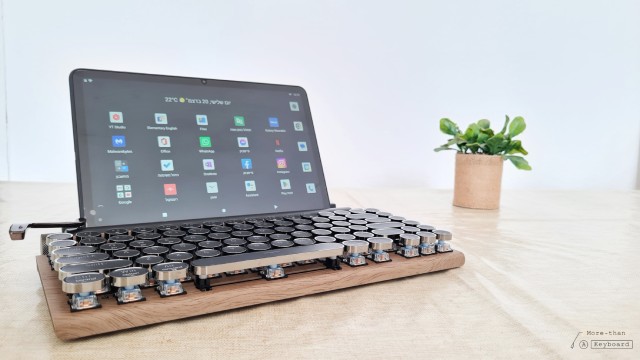 It could have been nice to type in my native language on a retro keyboard. I tried but it didn't work for me on my tablet. However, this is the standard of most of today premium typewriter-style keyboards.
The TW1867 is built with scroll knobs in the sides to control both brightness and volume. The best part, though, is the nostalgic return joystick that gives the feel of a typewriter machine. It is used for the light effects by default which I find pretty handy.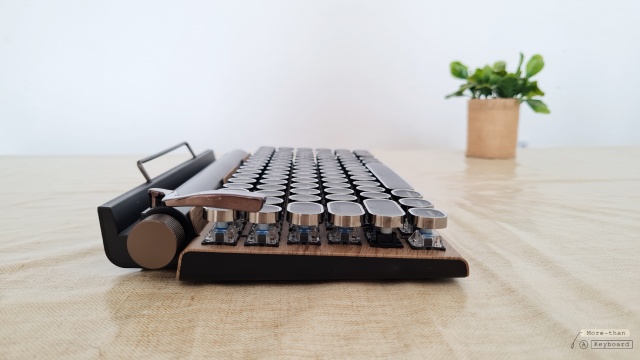 The TW1867 wooden design gives a slightly different typewriter feel than other premium designs. It has an outstanding retro design I love so much. However, the "wooden" material is not really made from wood. It instead feels like kind of a plastic. For me it doesn't matter and it still looks remarkeably elegant.
I think this beuatiful design is one of the first visual elements that distinguish this model from other premium brands. If you still prefer the classic typewriter style, however, there is also an all black metal design with RGB lights (Amazon).
Overall, the 7keys TW1867 gives you an excellent typewriter experience with nice lighting effects. This typewriter keyboard is considerably pricy but cheaper than the Qwerkywriter. It gives you a typewriter feel together with beautiful backlighting and exceptional wooden design, making it the perfect premium typewriter keyboard.
Get the TW1867 from Amazon.
If you need some more details watch the video below:
You can also view more outstanding typewriter keyboards, or if you can't afford this level of price, explore these budget retro keyboards. Here you can find more information about typewriter keyboards in general and the top 7 boards in the niche.
Shachar is a blogger who enjoys the feel of a typewriter, and he loves tech gadgets with a retro design. Besides blogging Shachar likes to play chess, walk in nature and take view photos.