This article may contain affiliate links.
In the last decade, typewriter keyboards have become trendy. Many gamers, typists, and entrepreneurs use these unique boards to spice up their setup. The feel of a typewriter, the clicky sound, the round keycaps, and the groovy tech features make work more exciting and fun.
But what are these features, and how to know which keyboard is best for you? We investigated these questions to help you make a wise decision. This guide introduces the retro designs and features available. It reviews the best typewriter keyboard in seven categories so you can choose the best keyboard for your taste, needs, and budget.
Now before getting into details, let's jump straight to the point.
In the table below, you will find the best typewriter keyboard in 2023 for each category:
| | | | | |
| --- | --- | --- | --- | --- |
| | | | | |
| | | | | |
| | | Best full-size retro keyboard | | |
| | | | | |
| | UBOTIE typewriter keyboard & mouse | | | |
| | Ubotie mini retro keyboard | | | |
| | | Best backlighting for a budget | | |
| | Felicon portable typewriter keyboard | Most flexible to work with | | |
The Feel of a Typewriter
While old-school typewriter machines are rarely in use today, modern, mechanical keyboards give you a similar typewriter experience. Most of such boards come with raised keycaps to resemble the feel of a mechanical machine, while the round design of the keys gives the board a typewriter look. This design lets you feel and hear your typing and type more accurately.
Note the time it takes to get used to these round mechanical keys before you can reach the actual benefits of the typewriter keyboard. It took me two weeks of daily use until I got used to the new keys structure and enjoyed typing.
Designs And Features
Switches
Mechanical keyboards have individual switches, which improve the feedback from the keys. They need less pressure when typing on the keyboard, so they are ideal for long typing projects. Another advantage of mechanical keyboards is that you can customize the typing experience by choosing the switch type. The blue switch, for example, has a loud, clicky sound, and it provides essential feedback. The brown tactile switch gives you feedback too, but with less noise. The linear red switch creates a quiet, smooth feeling, with less to no feedback. Most of today's typewriter keyboards offer blue switches to maximize feedback and sound, and you can find a few models in which you can choose your favorite switch type.
Size
The size is another factor that can help you evaluate the best typewriter keyboard. You can find full-size keyboards with all the keys (around 88-115) organized comfortably and a 60-75% board size in which some keys are hidden under another layer or omitted entirely (boards of this size typically have 61 to 88 keys). Think about your needs. If you work at home or office, pick the full size, and if you need some compact keyboard, check the small size models. Of course, keyboard size is also a matter of personal taste.
Connectivity and compatibility
The newest compact typewriter keyboards have a Bluetooth connection to use them with your laptop, tablet, and phone. Most large keyboards connect to your PC via Wi-Fi or a wired USB cable. The advantage of a wired keyboard is that you don't need to worry about input lag or battery life. Either way, be aware of the operating systems the keyboard supports. While many typewriter keyboards officially support all main OS, some boards work better with iPad for example. So before purchasing, read the specs of the keyboard and some customer reviews to find if it is fully compatible with your device's OS.
RGB lighting
One of the cool features that most of today's typewriter keyboards have is RGB lighting. These lights come from the keys in different colors and rhythms that comprise a dynamic work environment. Each keyboard has its lighting functionality. Some boards offer many colors and effects, whereas others have essential standard lighting or no lights. This feature is ubiquitous in typewriter gaming boards.
N-Key Rollover and Anti-Ghosting
This feature is included in most of today's typewriter keyboards, and you should want to have one, especially if you are a gamer. The N-key Rollover (NKRO) ensures that each key in the board is registered on time when multiple keys are pressed together. Let's say you play an action game and want to use an item while turning right with your character; you can press both the right arrow and the item key altogether and still achieve what you tried to do. On the other hand, with standard membrane keys, it could happen that only the arrow key would be registered while the item key would fail (or vice versa), what the gamers call "ghosting." In other words, NKRO is an anti-ghosting feature that ensures high responsiveness and a better overall gaming experience.
As you can see, there are different designs and different features available. Each model has a slightly different features combo, so it is a matter of need and taste which one to pick. Here you will find the top 7 typewriter keyboards in 2023, according to our liking and experience. Each keyboard is best in a particular aspect, so we built a list to choose the best keyboard for your needs.
Top 7 Best Typewriter Keyboards
1. Best Overall – Qwerkywriter S
The Qwerkywriter is the brand that started the whole typewriter keyboards trend in 2014. This keyboard has a beautiful premium design, making it feel like an actual typewriter. It has Cherry MX blue switches for unrivaled tactile feedback and performance. The aluminum material, metal rings around the keycaps, and functional return lever and scroll knobs that control Volume and Page Scroll make the Qwerkywriter feel like the good old typewriter machine.
This typewriter keyboard is not just beautiful and stylish but also practical. It has two modes for your comfort – a Bluetooth mode in which you can connect tablets and smartphones (3 devices all at once) and a wired mode in which you get NKRO support. The Qwerkywriter is compatible with most operating systems and has an integrated stand that holds most 10–12-inch tablets.
The keyboard is quite expensive, but it is worth the authentic typing experience you get. You should go for it if you are really into the typewriter keyboards hobby or want to have the best retro gear for yourself or as a special present for somebody else. The Qwerkywriter is the original and best typewriter keyboard you can find today. Check its price on Amazon.
We've also compared three other premium retro keyboards with the original Qwerkywriter to help you decide if this is the suitable model for you.
2. Best Full-Size Typewriter Keyboard – Azio Retro
Built with a high-end design, beautiful wooden surface, and round chrome-finished keycaps and edges, the Azio Retro keyboard (link to Amazon) feels like a luxury retro keyboard. At the same time, it has advanced tech features that support accurate and comfortable typing. There are mechanical blue switches at the heart of the board that gives tactile feedback and a lovely clicky sound.
The total size of the keyboard, long battery life (up to 2 months of use with one charge or nine months if backlights are disabled!), and the unique adjustment mechanism for your wrist provide a comfortable setting for long typing hours.
Gamers would like the quality of all key anti-ghosting tech in which they can press any key combinations without missing a stroke and the bare backlight of the keys that can help see the characters in no light conditions.
You can choose either a wired board with a USB cable or a mixed model with both wired and Bluetooth modes. This keyboard is pricy but less than the first board mentioned, and it has a beautiful high-quality design and features, all of which make the Azio Retro keyboard an excellent value for money.
To learn more and watch videos of this keyboard, view the Azio retro extended review.
3. Best for Gaming – DoubleW RK Royal Kludge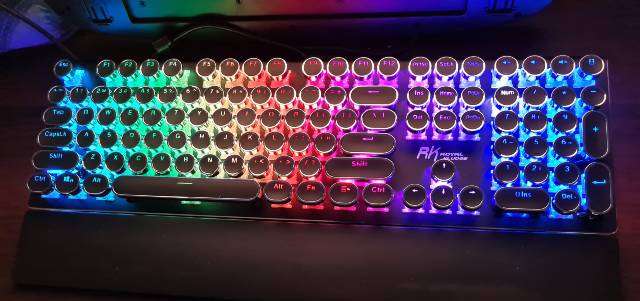 It's time to dive into the gaming zone.
The DoubleW Royal Kludge typewriter keyboard (Amazon) is the best full-size (108 keys) gaming typewriter keyboard for a couple of reasons. First, this board is highly comfortable. It has a great ergonomic design with an ABS palm rest, which alleviates pressure on your wrist during typing and gaming. The board is made of top alloy aluminum with a matte-finish texture which feels great and protects the board from scratches.
Second, this board has a classic retro look and excellent, high-quality gaming features. The Mechanical blue switches provide clicky sound and tactile feedback, while the steampunk round keycaps give you the feel of a typewriter. The all-key anti-ghosting tech ensures that each keystroke is registered during intense gaming sessions. Another impressive feature of this board is its beautiful rainbow lighting effects. With up to 168 lighting modes and seven additional ones in the sides of the keyboard, you get here a vibrant shining gaming setup.
While the DoubleW RK Royal Kludge board might not compete with popular, standard gaming keyboards, it's the best pick for those who like gaming tech and retro style. The price of this model is reasonable and significantly lower than the first two boards on the list.
Read our full review of the RK typewriter keyboard to get more details.
4. Best Minimalistic Design – UBOTIE Colorful Typewriter Keyboard and Mouse
You should consider the Ubotie keyboard (Amazon) if you look for a colorful, minimalistic design. The great thing is that you have plenty of colors to choose from: pink, red, blue, green, or purple boards in which each board has a primary color theme and several other complementary colorful round keycaps. This makes the typewriter design very cute and playful. The Ubotie retro keyboard comes in full size, with plastic keys and no metal rings. I think it's okay, especially for the budget price tag of this board.
Another nice thing here is the mouse that comes with the keyboard. You would not be concerned about finding a separate mouse of the same color on this deal. The keyboard and mouse connect to the PC through a USB wireless stick. It doesn't have a Bluetooth connection, though, so this keyboard does not support phones and IPad.
From what I found, the Ubotie is the best full-size typewriter keyboard and mouse combo for a budget price. Be aware that you will need to bring two triple-a batteries as they are not included in the package.
5. Best Compact Board – Ubotie Portable Bluetooth Retro Keyboard
If you like the colorful typewriter idea but need it to be on a lightweight and compact board, you might be interested in the Ubotie mini typewriter keyboard (Amazon). It has a Bluetooth connection that allows using the board for your laptop, tablet, and phone. The keyboard is easy to carry to enjoy retro typing anytime, anywhere. The keycaps are round and minimalist like those of the Ubotie full-size board. The price here is even lower than that of the bigger board, but there is no mouse offered here. You will need to bring two triple-a batteries for this portable board.
6. Best Backlighting for a Budget – HUO JI E-Yooso Z-88
This is an excellent example of combining beautiful lighting effects on a retro typewriter design. The Huo Ji E-Yooso keyboard (Amazon) has 81 keys, so it's a compact board built well with metal rings on the keys. They have a nice matte-finish texture which feels just great. The Outemu red linear switches allow you to enjoy the retro typing experience without the loud, clicky sound, so if you work in a quiet workspace or don't like the clicky sound part – this keyboard is for you. If you prefer clicky sounds and get tactile feedback, you can pick brown or blue switches instead.
The E-Yooso Z-88 is compatible with most Operating systems and has a USB cable that connects to your pc. Here, you can find an anti-ghosting feature for all 81 Keys and excellent shortcuts to control your media and the RGB lighting. As mentioned earlier, the backlighting is the best part of this board. There are 10 RGB lighting modes in which you can control brightness, color range, and flashing speed. The color range and breathing textures fit better than other compact backlit boards. The lights are bright and vibrant, comprising a cool working environment.
7. Most Flexible to Work with – Felicon 84-Key Typewriter Keyboard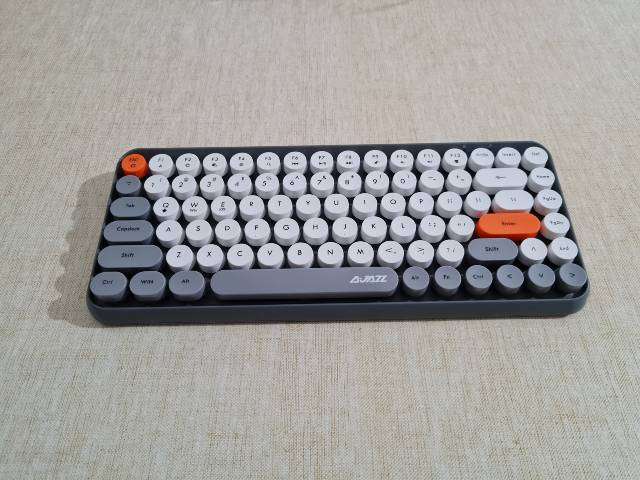 Finally, we've got this cutie, colorful, compact retro board. As with the portable Ubotie board, the Felicon keyboard (Amazon) comes in various colors. It is lightweight and has round plastic keycaps and Bluetooth connectivity to mobile devices.
The connection here is something. It has a long-range 2.4 GHz wireless connection allowing you to work comfortably around the house. Another great feature in this board is the noise reduction tech that produces quiet and comfortable typing. You can enjoy retro typing without interrupting your workmates, roommates, or strangers at the library.
Frequently Asked Questions
Are typewriter keyboards the same as mechanical keyboards?
Typewriter keyboards share a few characteristics with mechanical keyboards – they both have mechanical switches, tactile feedback, and popular tech features that many membrane boards don't have. However, typewriter keyboards offer additional features and round keycaps that produce a different typing experience.
Can I make my keyboard sound like a typewriter?
No. You would need a mechanical typewriter keyboard to enjoy this retro sound.
What are the best typewriter keyboards for gaming?
Several typewriter keyboards were designed especially for gaming. These keyboards have round mechanical keycaps and popular gaming tech features like anti-ghosting, backlighting effects, and media buttons.
Which keyboard is better for typing?
Typewriter keyboards are ideal for typing as they give you tactile feedback and can make the whole typing experience much more fun. I prefer a full-size typewriter keyboard, as it is comfy to type, and the spaces between the keys are allocated better than in small to middle-size models.
How to use a typewriter keyboard?
Using typewriter keyboards should not be much different than using other mechanical keyboards. You would need to try and learn how to use the function key buttons to change backlighting effects, pair your devices, and some different settings. Nonetheless, most brands include instructions with the keyboard so you can easily adjust your keyboard for your needs.
Are typewriter keyboards good?
Typewriters are great addons to the setup – whether it is your office, home, or gaming setup. They can help you feel the typing, which could be a weird experience at first, but I've found it fun after a while. In the end, it's all about personal taste. Some users still prefer the standard mechanical boards, but if you love retro gadgets or need a unique gift, or simply want to spice up your setting, you should pick a typewriter keyboard.
Conclusion
Typewriter keyboards can spice up your setup and make work more fun. This post introduced vital terms and features in the niche and overviewed the top 7 typewriter-style keyboards you can buy today.
If you are already familiar with the retro keyboards niche and seek a particular typewriter board type, this is the place for you. Start by specifying your needs and then explore different keyboard designs. You can also check these affordable keyboards if you are on a tight budget. Finally, if you are unsure whether the typewriter-style is worth it, you can learn more about the differences between typewriter keyboards and mechanical keyboards.
Shachar is a blogger who enjoys the feel of a typewriter, and he loves tech gadgets with a retro design. Besides blogging Shachar likes to play chess, walk in nature and take view photos.