This article may contain affiliate links.
Working from home has become a widespread phenomenon in the last years, so more people are looking to spice up their desktop setup. Not surprisingly, one of the first things to change in the setup is the keyboard. We type on it most of the day and play games in our free time, so buying a new comfortable, good-looking keyboard is the first step. Furthermore, if you are a gamer, an accurate and impressive gaming keyboard is a must-have, so we provide you with a thorough review of one of the most remarkable gaming keyboards – the Royal Kludge (RK) typewriter-style keyboard by DoubleW.
If you are looking for a decent, unique gaming keyboard, the Royal Kludge retro model is your go-to. It has a proper quality material with a reasonable price tag for a typewriter-style keyboard. While it might not compete with the top gaming mechanical keyboards that are not retro-designed, it is your best choice in terms of uniqueness and style.
Here I review the Royal Kludge typewriter keyboard based on my own experience with it and the features I liked and less liked in this keyboard.
Unboxing + Testing the Royal Kludge Typewriter Keyboard
Retro-Style Mechanical Keyboard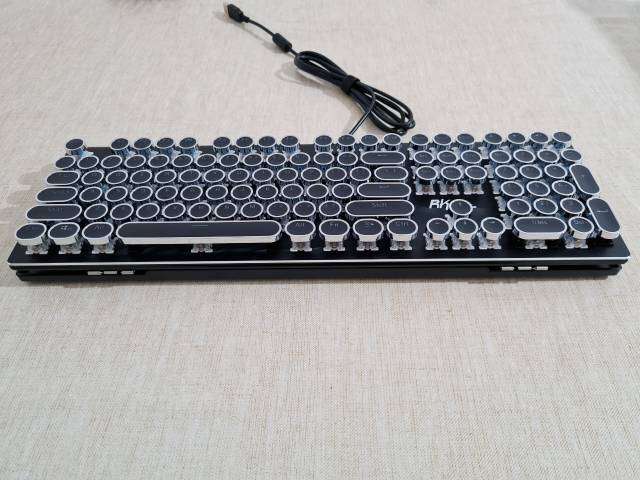 Before introducing you to the unique characteristics of the RK S108-X – The Royal Kludge typewriter keyboard, let's briefly review the typewriter's round keycaps. This minor tweak in the design changes the whole typing experience and provides a retro-ish look.
It is easier to type on the keys with a mechanical keyboard and feel each hit on the keys. This way, your fingers become less fatigue, and the overall experience is much more fun. Together with the clicky sound and retro design, you would feel the sense of old typewriter machines. I liked this part as I can enjoy the retro design not just as a hobby. With a typewriter-style keyboard, you can work and play games without getting messed up by connecting an actual typewriter machine to a PC.
Check this guide if you want to learn more about typewriter-style keyboards. However, one thing to remember is the time it takes to get used to the round keys. It can be awkward to type with all the spacing between the round keys at first, but after the first week or two, it should be just fine.
Anyways, we are here for the Royal Kludge brand, so why choose this keyboard in particular?
Futuristic Look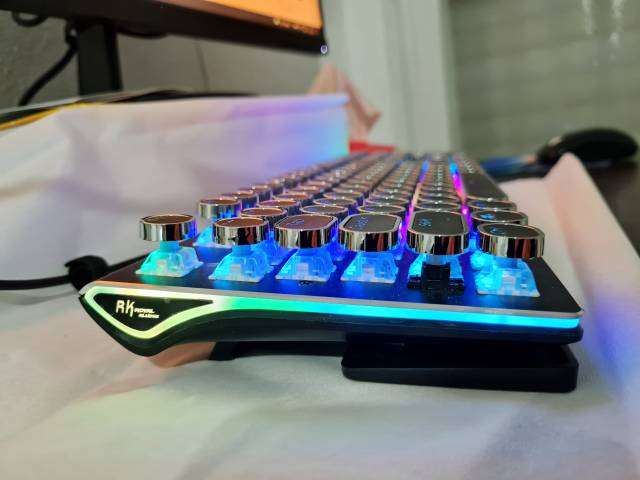 Compared to other similar typewriter-style gaming keyboards, the number one reason to choose the RK is the beautiful RGB lighting it has. You can switch between not less than 168 backlighting effects (!) and configure customized lighting to your liking.
I mostly like the calming rainbow breathing effects that go from side to side, but this is just one mode among many other fantastic lighting modes. The keyboard comes with a short manual that shows you how to switch between the different lighting modes and control the multimedia with the function button.
As with any other mechanical gaming keyboard, you have a function button that you can press in conjunction with another key to change the lighting (shown in the embedded video above), volume, and other handy shortcuts.
If you are not into the rainbow lighting, you can change to monochrome blue, green, or yellow modes, all bright and friendly. You can also change the breathing rhythm of the lights, which I find less relevant, though I found the default speed the best for working with the keyboard. There is also a possibility to trigger local lighting on each key and much more sophisticated effects.
The control you have over the lighting here is so good that you can adjust different lighting colors on the sides of the board. This extra configuration is not as relevant to me, yet it is always lovely to be able to change the look of your setup in different ways. If you are a gamer, you know how fun it is to customize the setup from time to time to improve your gaming experience.
A Competitive Cozy Keyboard for Gaming and Typing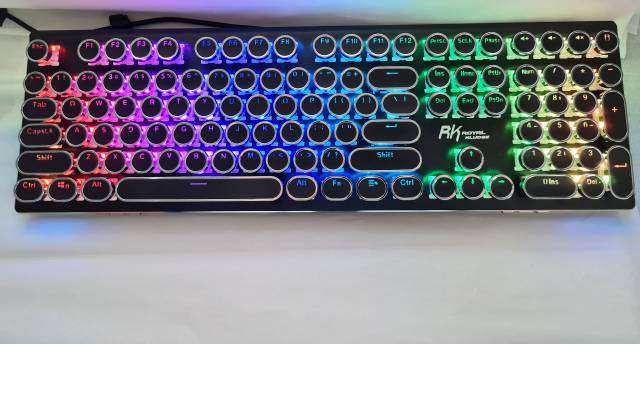 Beyond the abundance of RGB lighting modes, this board is highly comfortable and durable. It is a sturdy full-size mechanical keyboard with 104 high-quality clicky blue switches. The steampunk round keycaps give you the feel of a typewriter, and they feel not as cheap as other typewriter-style keyboards in the same or lower price range (40$-80$).
It has an ergonomic design with an ABS palm rest, alleviating pressure on your wrist during typing and gaming. The board is top alloy aluminum with a matte-finish texture that protects the board from scratches.
I like the two-size built-in legs in which one pair is folded into a giant couple so you can fit the keyboard to your preferred hand's position. Of course, you can always switch back the keyboard to be flattened on the table.
You also get a folded plastic wrist support which some people may find handy. Nonetheless, I wouldn't say I like the plastic feeling, and I prefer my own separate gel wrist rest.
The Most Unique Gaming Keyboard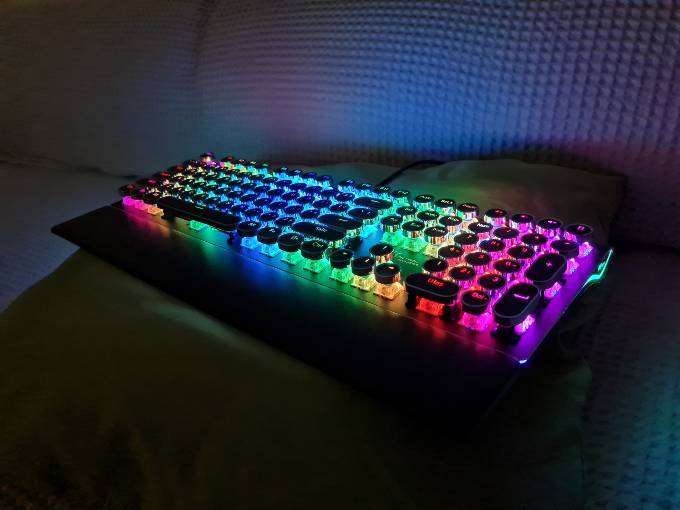 The Royal Kludge retro mechanical keyboard display uniqueness and competitiveness simultaneously. You get here not only a sturdy interface, beautiful retro design, and impressive backlighting effects but also an all-key anti-ghosting tech that ensures each keystroke is registered when pressing several keys at the same time. In other words, the RK board is not just unique but also competitive for gaming.
I have been typing on this keyboard for three months now, and I enjoy it. It has reduced the strain on my fingers and made my typing experience more accessible and delightful. While I'm not a competitive gamer, I play several Pc games once in a while. I have used the keyboard to play games like Asphalt 9 and FIFA 20 and haven't noticed any conflict between keys so far. The control over the Asphalt races and soccer matches was perfect.
The RK typewriter design can level up your setup and make it shine and be eye-catching. I'm a fun of this keyboard thanks to the variety of shiny lighting modes and endless customization, round keys, and quality material. Here you can check the RK's price on Amazon.
Shachar is a blogger who enjoys the feel of a typewriter, and he loves tech gadgets with a retro design. Besides blogging Shachar likes to play chess, walk in nature and take view photos.