This article may contain affiliate links.
In the past seven years, the typewriter-style has become a trend among gamers. The combination of gaming features and typewriter design provides a refreshing gaming experience. However, most of the comparison reviews we found online cover different gaming board styles altogether, with no particular attention to the typewriter style. Therefore, we've made this post to provide you with the relevant information to choose the best typewriter gaming keyboard. Here, you can compare the different models available in the market and select the one that fits your taste.
5 Typewriter Gaming Keyboards That Would Make You Proud Of Your Setup
| | | | | |
| --- | --- | --- | --- | --- |
| | | | | |
| | | | Diverse true rgb backlit effects. Excellent wrist rest for comfort gaming sessions | |
| | | | Supper cool rainbow RGB backlighting. Comfortable large knobs control. | |
| | | | Best budget retro gaming keyboard. | |
| | | | Beautiful RGB Lightings for a compact gaming board. Can choose switches. | |
| | | | Eye-catching design and a great multifunction control knob. | |
In case you are not familiar with critical terms and gaming features check our guide first, otherwise, you can go ahead and explore the gaming boards below: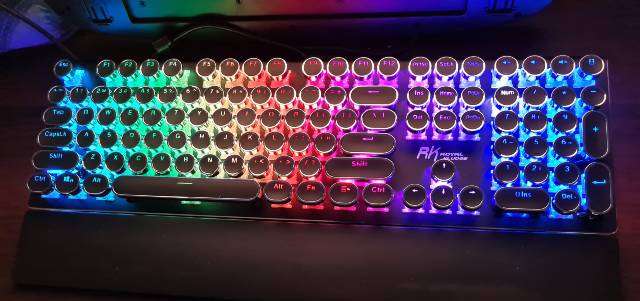 The DoubleW RK Royal Kludge (link to Amazon) is the best full-size (108 keys) typewriter keyboard gaming design. First, this board is highly comfortable and durable. It has an ergonomic design with an ABS palm rest, which alleviates pressure on your wrist during typing and gaming. The board is made of top alloy aluminum with a matte-finish texture which feels great and protects the board from scratches; the built-in legs are solid and beautifully designed.
Second, this board has a classic retro look and excellent, high-quality gaming features. The Mechanical blue switches provide tactile feedback and clicky sound, and the steampunk round keycaps give you the feel of a typewriter. The all-key anti-ghosting tech ensures that each keystroke is registered during intense gaming sessions. Another impressive feature of this board is its beautiful RGB lighting effects. You get a shining gaming setup with up to 168 lighting modes and seven additional ones on the keyboard's sides.
While the DoubleW RK Royal Kludge board may not compete with popular, standard gaming keyboards, it's the best pick for those who like the benefits of both the gaming tech and retro style. It's a durable and comfortable wired typewriter keyboard gaming design with the high build quality and advanced features.
Learn more about the RK typewriter keyboard in our full review post.
Among the mid-size wired gaming typewriter keyboards out there, the Stoga gaming board (Amazon) is tis the one that grabbed my attention. The keyboard comes with professional Outemu blue switches and quality anti-ghosting tech for accurate and responsive typing. The board is made of aluminum and feels slim and sleeky. The layout consists of round keycaps with metal rings and anti-fading tech in which characters are less prone to fading.
You get in this keyboard with beautiful RGB lighting effects. You can choose from 18 lighting modes, including a few unique effects like the central ball effect. You can adjust the brightness of the lights and effects with the upper left knob and control the volume with the upper right knob. In addition, there are function keys and eight shortcut media keys at the top, all of which make this board so easy to control and customize.
This typewriter keyboard gaming design is very cool and well customized, and it feels more expensive than its actual budget price, so you get here great value for money.
For those who don't want to spend too much and look for a decent typewriter gaming keyboard, the CC Mall gaming board (Amazon) is the right choice. You get in this USB wired full-size board with anti-ghosting tech and blue switches, round keycaps, and a metal typewriter look. Another great feature is the multimedia knob on the top right of the keyboard. With this little fellow, you can save time controlling multimedia functions like volume, pause or move to the next song or video.
The overall look is quite like those of the RK Royal Kludge though with fewer lighting effects (22 modes and 3 customized modes), and it has the same style of cozy wrist rest which improves the typing experience.
To my hamble opinion, 22 of such nicely bright LED lighting effects are utterly enough to create a vibrant gaming setup. Considering the reasonable price tag, this CC Mall gaming board has excellent value for money.
This is another excellent example of combining beautiful lighting effects with a retro typewriter design. The Z-88 Model (Amazon) is 60% in size, compact, and well-built with metal rings around the keys. They have a nice matte-finish texture which feels just great. The Outemu red linear switches allow you to enjoy the retro typing experience without the loud, clicky sound. So, this keyboard is for you if you work in a quiet workspace or don't like the clicky sound part. If you want feedback and clicky sound, you can get brown or blue switches instead.
YoYou can find an anti-ghosting feature for all 81 Keys on the keyboard and excellent shortcuts to control your media and advanced RGB lighting. There are 10 RGB lighting modes in which you can control brightness, color range, and flashing speed. The color range and breathing textures fit each other beautifully, and the bright lights give a vibrant, fantastic working environment. This is the ultimate compact typewriter gaming board if you have small keyboard space on your desk.
There we are with the last but also the most unique keyboard. The CC Mall keyboard (Amazon) was designed especially for those who like pink gadgets. It has a different style which is both special and eye-catching. The chrome finish provides a final touch of luxury, while the metal backplate improves protection from potential damages. One of the particular advantages of this board is the CC Mall product's build quality proof. In the specs, it's noted that professional players have tested the clicky blue switches, and international manufacturers studied the vintage round keycaps.
The lighting effects in this keyboard are excellent as well. You can find 30 white lighting modes and a large knob in the upper right corner of the keyboard, in which you can easily adjust brightness and choose your favorite lighting effect. By clicking the knob, you can control volume and switch multimedia modes, which improves the overall comfort of this board. Considering the reasonable price of this keyboard and its excellent features and impressive pink design, it has great value for money.
Conclusion
The typewriter keyboard gaming design is the ultimate addon for your gaming setup. The metal design and round keycaps bring you an exceptional retro typing experience, in addition to your favorite gaming features. In this post, we helped you pick your next board by reviewing the best typewriter gaming keyboards, including an internal niche comparison between the different benefits of each model. You can find in this blog other types of typewriter keyboards including pure retro keyboards that look and feel like the good old typewriter machines, budget retro boards, portable boards, and more.
Shachar is a blogger who enjoys the feel of a typewriter, and he loves tech gadgets with a retro design. Besides blogging Shachar likes to play chess, walk in nature and take view photos.