This article may contain affiliate links.
Whether you like to type on your grandma's typing machine or are a retro gadgets geek, The Qwerkywriter S keyboard brings you the feeling you are looking for – the feeling of a typewriter. That includes the mechanical sense, the clicky sound, and even the carriage return that the typist uses to move at the end of each sentence.
This fantastic keyboard is the one that started the typewriter keyboards trend in 2014 – the emergence of modern keyboards that combine retro style with gaming tech features. The Qwerkywriter (view on Amazon) is the perfect blend of a retro feel and modern tech. Every part of this keyboard consists of high-quality material. If you wonder about the S that comes after the Qwerkywriter, it signifies a second-generation, upgraded model of the original device.
The base is all from aluminum, while the keycaps are rounded by metallic rings, giving the board a premium look. Under the keycaps, you will find Cherry MX blue switches for unrivaled tactile feedback and performance.
Another helpful feature is the integrated stand for tablets and phones that, from what I checked, really hold my 12-inch tablet (read the specs to determine about yours). Battery life is also great and lasts for about 3-4 weeks on a single charge. Note that the Qwerky Keyboard is considerably heavy for its compact size, making the board durable and stable.
The primary theme color of the Qwerkywriter is black, providing a classic retro feel. However, you can also get other editions of the Qwerkywriter on Qwerkytoy's site, like this unique white-ish keyboard, which adds up a super-premium look.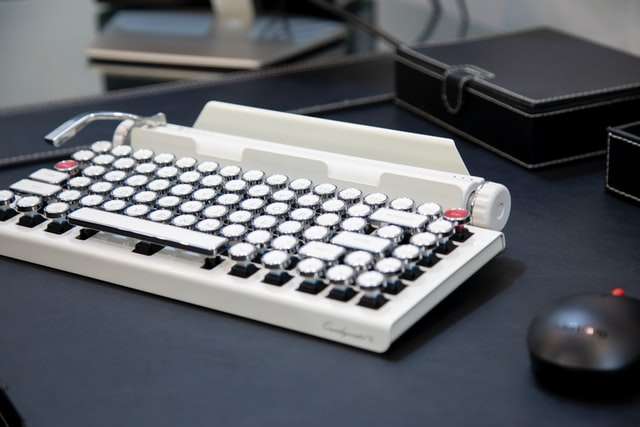 The Qwerky keyboard has a compact design and Bluetooth connection. It can connect up to 3 devices all at once. That includes tablets and smartphones, and a PC through a USB cable. It is compatible with WIN10, Mac OS, iOS, and Android devices.
The overall build quality, the functional return lever, and scroll knobs that control Volume and Page Scroll (not available in iOS 14 yet) make the Qwerky Writer the best typewriter keyboard. These excellent features give the feel of an actual typewriter machine. They are also super helpful – each hit on the return joystick spaces between paragraphs, like in the good old typewriter.
I like that you can also reprogram the joystick for other tasks such as copy and pasting, which is cool. The scroll knob is handy for tablets in which it is less intuitive to touch the scroll while you type. Finally, the Qwerky Keyboard has NKRO support in its wired mode, ensuring a smooth typing and gaming experience. While this is not a gaming keyboard by defenition it can be used in a gameplay pretty well thanks to the NKRO feature.
One minor issue in this typewriter keyboard is that it doesn't have lighting effects, which is a bit disappointing but ok considering the attempt to create an authentic retro design. Another issue is the high price tag that comes with this board. However, this should not hold you back if you are into the hobby of retro gadgets since this is the best typewriter-style board you can get today.
To sum it up, if you are a hard-core typist, or a typewriter lover who looks for a high-quality mechanical keyboard the Qwerky Writer is your ultimate choice.
Watch this video review to learn more:
You can explore more outstanding retro keyboards or gaming boards. Here you can also learn more about typewriter keyboards in general.
Shachar is a blogger who enjoys the feel of a typewriter, and he loves tech gadgets with a retro design. Besides blogging Shachar likes to play chess, walk in nature and take view photos.