This article may contain affiliate links.
In the past few years manufacturers have started to provide keyboards with better technology and a steampunk style. Starting from the original Qwerywriter other companies have made innovative models of retro designed mechanical keyboards. Blending the past, the present, and the future into a keyboard attracts many gamers and typists worldwide.
One of this niche's first brands is the Azio Retro (Amazon) – a typewriter-inspired mechanical keyboard with a luxurious look. It offers a cool, sleek retro design with advanced tech features manufactured by the renowned gaming brand Azio. This keyboard has a minimalist design and fantastic decoration. At the same time, the round chrome finished keycaps and edges add a typewriter-style.
What I appreciate in Azion is that they offer a wide range of premium designs. You can find the Azio board in classic black, wooden, Artisan, posh, and even maple plate, giving the keyboard a retro luxury feel: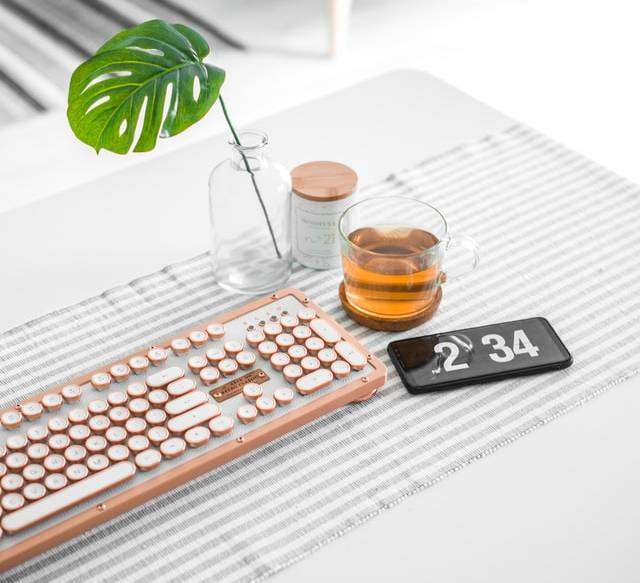 The Azio typewriter keyboard comes in full size, and it is durable and comfortable to work with. In this respect, I like the unique adjustment mechanism in which you can get the optimal wrist position. That is an excellent feature for extended work and gaming sessions. In addition, the super-long battery life of this keyboard (6000mAh) allows you to type up to 2 months with one charge, or even nine months if the backlights are disabled! This is truly amazing as most typewriter keyboards have much short battery life or even standard AA/AAA batteries.
Another helpful feature is the high-quality all-key anti-ghosting tech in which you can press any key combinations without missing a stroke. The anti-ghosting feature is included only in the black classic retro model. The board relies on mechanical blue switches that give tactile feedback and a lovely clicky sound. The bare backlight of the keys can help you see the characters in no light conditions, which is comfortable if you tend to work in the evenings.
The Azio typewriter keyboard has a wired USB cable that connects to your PC, and you can also choose a Bluetooth model that can connect to your Pc/Mac wireless. This board is not cheap, but it has a reasonable price compared to other top retro keyboards. This keyboard's retro classic black version is better for gaming, and it's more affordable. Check its price on Amazon. Considering the long battery life, the durability, and the luxurious retro feel of the Azio typewriter keyboard, it displays an excellent value for money.
Learn more about typewriter keyboards in general and see the top 7 in the niche. If gaming is your thing, explore the best typewriter gaming keyboards.
Shachar is a blogger who enjoys the feel of a typewriter, and he loves tech gadgets with a retro design. Besides blogging Shachar likes to play chess, walk in nature and take view photos.